CADTS Club History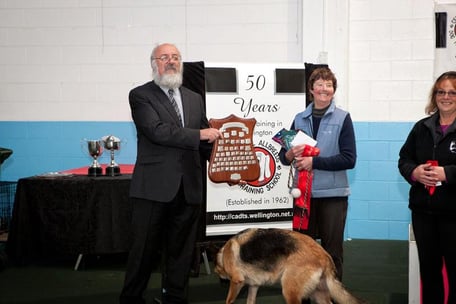 On Monday 19 March 1962 a meeting was called for the purpose of forming a dog training club in the Wellington area. Central Allbreeds Dog Training School was born.....total assets: unbounded enthusiasm and a kitty of about 10 shillings.

The first President was Mr C McDougall whose valuable contacts with the Education Department were able to pave the way for Central's occupation of the Mitcheltown School site on Holloway Road. An equipment shed was used as a clubhouse and Sunday morning classes got underway.

The Club grew over the next few years; countless dogs were given training and Central were always enthusiastic supporters of the National Dog Obedience Assembly.
In 2012 the club celebrated its 50th Anniversary. It continues to be committed to dog training now as when the first members formed Central. The dedication and enthusiasm of the members is still a large part of Central's strength. The club works as a positive reinforcement training centre that caters for people who wish to continue socialising and training their dog in a friendly, positive environment. The club is committed to keeping current with modern, scientifically-based and humane training techniques.
In 2019 we lost access to our Aro Valley grounds, and relocated to Ian Galloway Park in Wilton. While we don't have a club house at the moment, we do have a container for our equipment, and fences. We train primarily on a Sunday, and are now training more dogs than ever before, while our active committee work diligently to improve our infrastructure.